IP65 Intelligent OLED Display Pressure Switch for Water MPM5581

Features:
1. IP65;
2. OLED display;
3. Gas and liquid measurement;
4. Body rorate 330o


Applications:
1. Chemical industry;
2. Pump industry;
3. Hydraulic equipments


Specifications:
1. Range: (MPa)
0.1,0.35,0.7,1.6,3.5,7,10,25,40,60
2. Range drift: 25%FS~100%FS
3. Pressure Type: Gauge, Absolute
4. Overpressure: 2×FS or 100MPa(min. value is valid)
5. Accuracy: ±0.5%FS
6. Hysteresis: ±0.2%FS
7. Thermal error: ±0.02%FS/ºC(Zero/FS)
8. Power supply: 12V~30VDC
9. Long Time Stability: ±0.3%FS/year
Outputs:
1 switch: 1×PNP
2 switches: 2×PNP
1 switch + voltage output: 1×PNP + 0V~5VDC/10VDC
2 switches + voltage output: 2×PNP + 0V~5VDC/10VDC
1 switch + current output: 1×PNP + 0mA/4mA~20mADC
2 switches + current output: 2×PNP + 0mA/4mA~20mADC
Switch current: 1.2A(Max.)
Switch life time: >100 times
Switch reaction: <10ms
Switch time delay: 0.00s~99.99s
Switch action pattern: Hys. Mode / Win. Mode
Note: MS701 Communication adaptor shall be used to realize Modbus Communication function.
10. Screen display: Blue 128×64 OLED
11. Switch display: 2 red LED
12. Display units : kPaMPabarpsikgf/cm2
13. Key: 3 silicone rubber keys, pleas operate according to instructions on the screen.
14. Temperature display: referenced environment temperature
15. Peak display: Pressure peak in process
Working Temperature: -30ºC~70ºC
Storage Temperature: -40ºC~80ºC
Relative Humidity: 0%~85%
EMC: GB/T 17626.2/3/4-2006
Shoc: ≤10g/10Hz...500Hz(IEC 60068-2-6-2007)
Impact: ≤50g/11ms(IEC 60068-2-27-2008)
Protection: IP65
16. Housing: SS
17. Display board: PMMA
18. Diaphragm: SS 17-4/316L
19. Electric connection: M12×1 round plug
20. Gross weight: 300g
Outline Construction: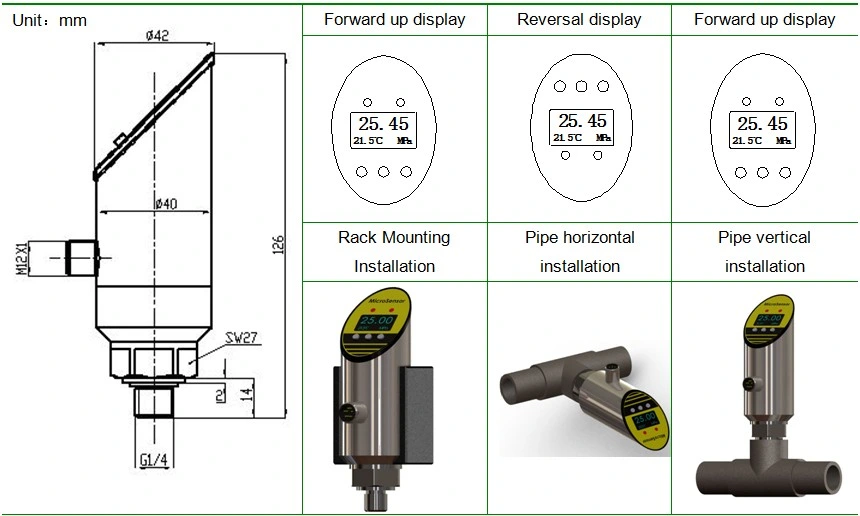 Order guide:
MPM5581

Intelligent Pressure Switch

Code

Pressure Range and Type

Code

Pressure Range and Type

G1

[0~0.1]MPa G

A1

[0~0.1]MPa A

G2

[0~0.35]MPa G

A2

[0~0.35]MPa A

G3

[0~0.7]MPa G

A3

[0~0.7]MPa A

G4

[0~1.6]MPa G

A4

[0~1.6]MPa A

G5

[0~3.5]MPa G

A5

[0~3.5]MPa A

G6

[0~7]MPa G

A6

[0~7]MPa A

G7

[0~10]MPa G

G8

[0~20]MPa G

G9

[0~40]MPa G

G10

[0~60]MPa G

Code

Output

1K

1×PNP

2K

2×PNP

1KV

1×PNP+0V~5/10VDC

2KV

2×PNP+0V~5/10VDC

1KA

1×PNP+0/4mA~20mADC

2KA

2×PNP+0/4mA~20mADC

Code

Thread

C1

M20X1.5 male, face-seal

C2

G1/4 male

C3

G1/2 male

C5

M20X1.5 male, waterline seal

C6

1/4NPT male

Code

Others

R5

5-pin M12X1 male plug

R8

8-pin M12X1 male plug for Modbus communication

MPM5581

G4

1KA

C2

R5

←the whole spec.
Certificates We Have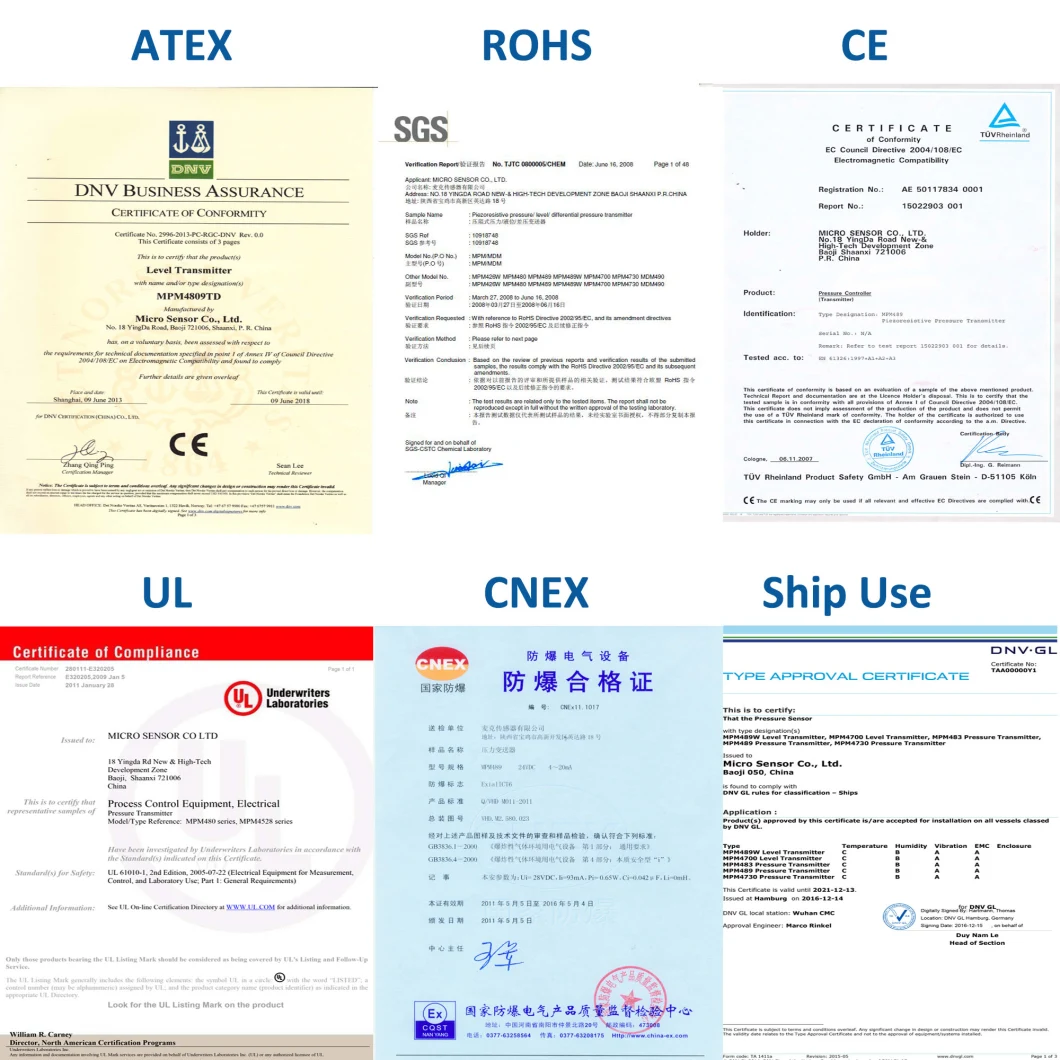 Company Overview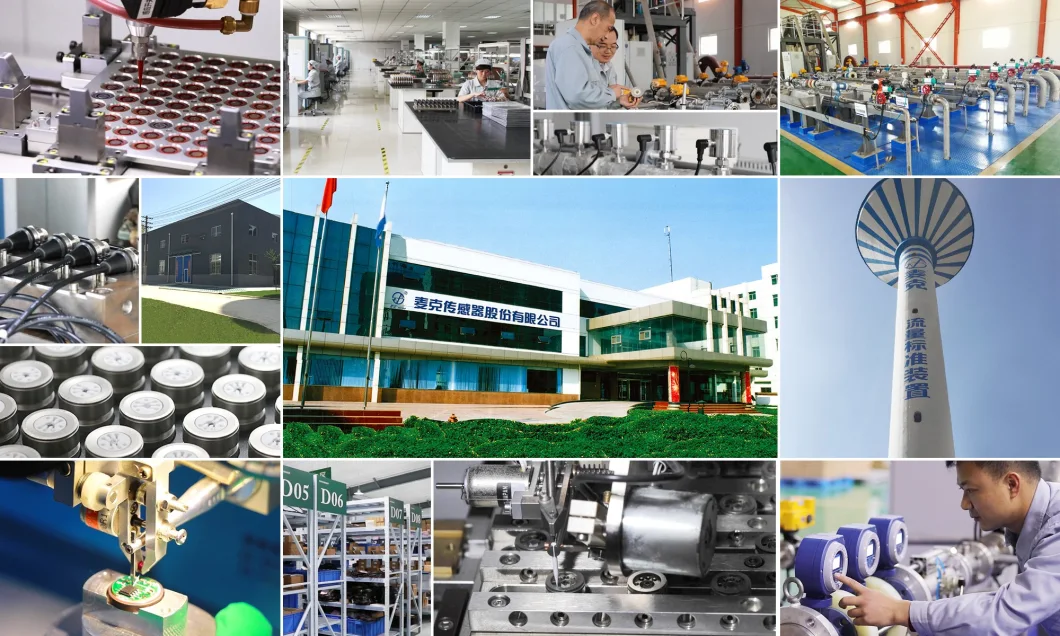 Products Family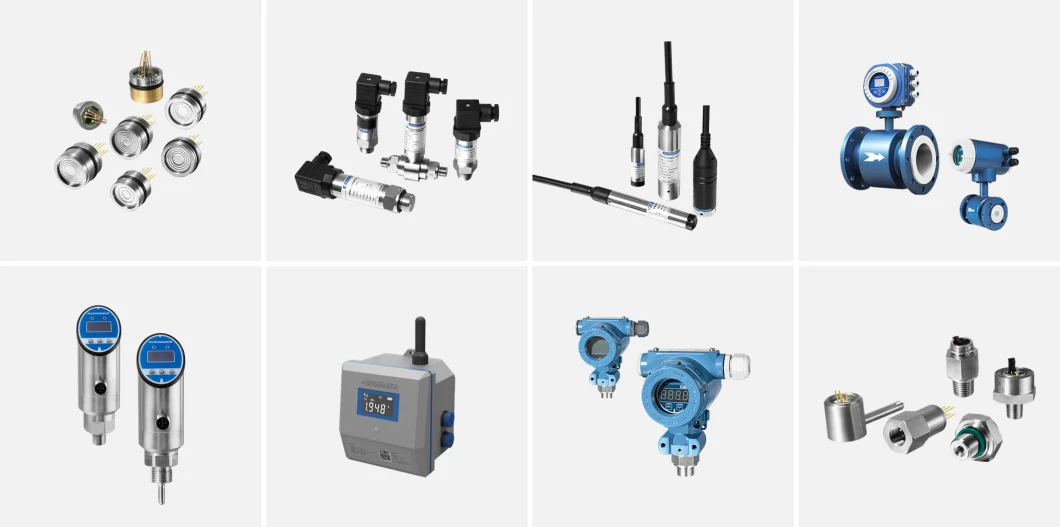 FAQ:
1. Q: Are you manufacturer or trading company?
A: We are 48-year professional manufacturer of Pressure/ Level/ Temperature/Flow transmitters with 4~20mA, Hart, Rs485 & Modbus protocols, pressure sensors with SDI, I2C, 4~20mA, 0.5~4.5V and etc, and wireless IOT measurement transmitters. We provide high quality products with high competitive factory price.

2. Q: What's your quality control system?
A: As an ISO9001:2008 certificated manufacturer, we have strict quality control system, and each product is done fatigue testing, calibration, temperature compensation before shipment. High quality is guaranteed.

3. Q: Is there MOQ with your product?
A: We have no MOQ limits, 1pc for testing is acceptable.

4. Q: Do you provide customized products?
A: Yes, we can print your logo on our products; OEM, ODM & customization are welcomed.

5. Q: What is the warranty of your products? And after-sales service?
A: Our warranty time is 12 months after shipment, and our after-sales will respond with your questions in 24hrs, remote instruction by PC network is always available.

6. Q: What is lead time of your product?
A: We are factory, our lead time is always within 10~15 working days for products without customization, but lead time will vary based on different products. You can check detail lead time with our sales.

7. Q: What international certificates do you have for your products?
A: we have CE, RoHS, UL, ATEX as well as ship-use DNV etc.