Six Phase Current Injection Universal Protection Relay Test Set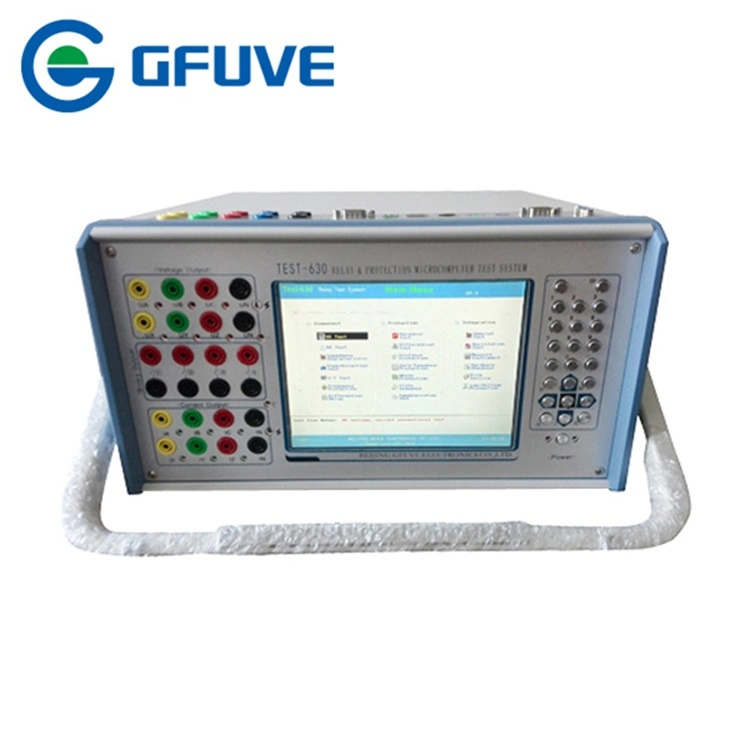 Overview
1. Six-channel current output
2. Six-channel voltage output
3. Six-channel share of DC current
4. Six-channel DC voltage output
5. Eight pairs of binary input
6. Four pairs of binary output.
Features
1. Integration in the host crystal 8.4 inches true color, light weight and easy to carry.
2. Built-in high-speed high-performance industrial computer, embedded operating system, running a stable and reliable; Also be connected PC testing.
3. Panel embedded user-friendly buttons can also be an external keyboard, mouse.
4. High-precision DAC to 12 Road, simultaneous output to ensure that waveform fitting of high precision, good linearity.
5. Matching electromagnetic compatibility components, can improve on-site anti-electromagnetic interference, protection devices can be connected electromagnetic compatibility tests.
6. Analog output of the front panel, switch the amount of terminal design in the upper cover, all the wiring does not affect the operation of the panels and test parameters of the surveillance.
7. Designed to the latest thermal structure, and to ensure the best ventilation. Automatically determine the over-current, over voltage, overload, short circuit, the temperature is too high, data anomalies and misuse warning prompt.
8. Using voltage, current amplifier AC / DC sharing, output stage uses a unique ultra-linear amplifier technology, high precision, good reliability; Six-phase AC output voltage and six-phase AC current.
9.12 analog ports and the other optional auxiliary DC source output (220V/110V).
10. Interface: RJ45 (Ethernet interface), USB interface (software upgrades, reporting transmission), industrial serial interface (GPS or other serial device use).
Functions
1. Host real-time operating system, fast response, when faced with an emergency situation, to better protection of instruments and equipment under test. Safe and reliable, not easy to be a computer virus violated.
2. Newly designed software interface style, Host machine operation is fully consistent with the background and easy.
3. Extensive testing capabilities: The state sequence determined in the trial, IT features analog oscillation, the entire group of tests, differential protection, harmonic superposition, low cycle load shedding, same equipment, measuring instruments, GPS synchronized debugging, fault playback, and custom test (special tests), etc., to satisfy various types of user testing microprocessor-based protection relay needs.
4. Easily complete the ABB, Siemens, AREVA and other foreign manufacturers of protective device test.
5. The test report can be easily derived from the USB port to print.
AC current output
Phase current output (effective value)
6×0-30A or 3×0-60A
Maximum output power
520VA/phase
Maximum parallel current output (effective value)
0-180A
Long-term allowable working value of phase current (effective value)
>10A
Allowable working time of maximum current
>11s
Accuracy
<±0.2%
AC voltage output
Phase voltage output (effective value)
6×0-130V
Line voltage output (effective value)
0-260V
Maximum output power
70VA/phase
Accuracy
<±0.2%
DC voltage output
Output range
0-300V or 6×0-±130V
Maximum output power
130VA
Accuracy
<±0.2%
DC current output
Output range
-10-10A or 6×0-±10A
Maximum output power
150VA
Accuracy
<±0.2%
Binary input
Idle contact
1-20mA, 24V (DC)
Electric potential contact
0-250V (DC)
Binary output
Idle contact
250V/0.5A (DC)
Rated output
Frequency error
<±0.01Hz
Phase error
<±0. 2°
Waveform distortion
<±0.3% (fundamental wave)
Time error
<40µs
Output frequency
0-1050Hz
Superposed harmonic wave
0-21times
Power voltage
Allowable range
AC220V±10%, 50Hz±10%
Ambient temperature
Use range
0-45ºC
Storage range
-25-70ºC
Time measurement
Test range
0.1ms-999999.999s
Exterior appearance of cabinet
Imported electromagnetic compatible cabinet, which is made of high-grade all aluminum alloy extruded section and has fine appearance, is selected.
Dimension of cabinet(L x W x H): 360mm ×195mm ×365mm
Weight of cabinet
Weight of host machine
16.6kg
Load-bearing output
Selectable between light load or heavy load output
(When any phase current output surpasses 15A, it is suggested to press key F3 before test of each functional module so as to switch to heavy load output mode)