test equipment CXPM-1 Intelligent SF6 density relay verification/Density Meter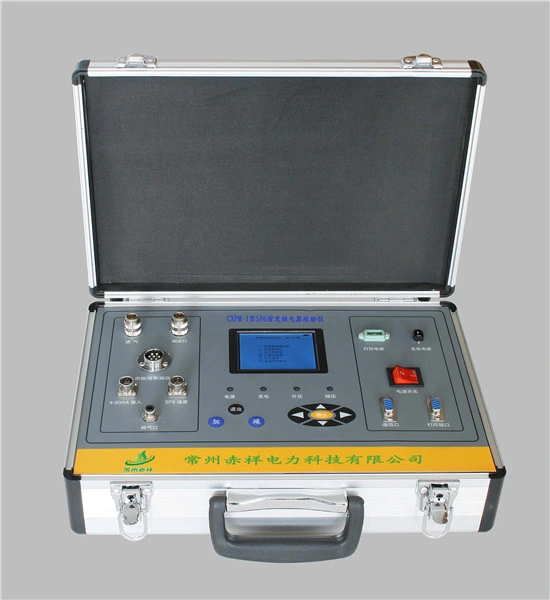 Product Description
I.Brief
CXPM-1 Intelligent SF6 density relay verification/Density Meter, this is a kind of intelligent & automatic checking instrument of SF6
density. The instrument adopts the single cycle instruction of microcomputer technology, which the
operating speed is 10 times ordinary singlechip. It can be calibrated at field to check SF6 density
circuit breaker of pointer contact output and intelligent current output, it uses interrupt mode to
capture circuit breaker density at realtime. The instrument has the characters of SF6 standard
conversion under any ressure environment,portable,auto calibration of SF6 density and pressure.
In a closed container, SF6 gas pressure under certain temperature can represent SF6 gas density.
it is usually used as SF6 gas pressure standard value at 20ºC. Under different environment temperature, measured pressure values are to be converted into its corresponding to value at 20ºC, it can be used to
judge the performance of SF6 density circuit breaker.
The meter's measurement is automatically finished, so it is convenient and simple.
II.Advantage
1.The meter adops analog digital mixed single cycle high speed microcontroller technology,
it has rich and powerful resources,strong data processing ability, it has the characters of simple
outer-ring circuits,good stability and accuracy because it built in A/D, D/A, reference voltage,
analog amplifier integrated.
2. The instrument can automatically check pointer type and electronic type density circuit breaker.
3.Density relay 1 ~ 3 group contacts of the initial state is arbitrary form (closed or open always), it can simultaneously measure response value and recovery value of 1 ~ 3 group contacts , so the instrument can auto measure all kinds of circuit breaker.
4.320*240 large screen liquid crystal display, simple and convenient to use.
5.It shows the current pressure, corresponding pressure and environment temperature at 20ºC, to solve
the problem of SF6 density relay on-site check.
6. Auto test process, to aviod operation by mistake.
7. 100 groups measured datas storage, every measurement can be traced.
8. RS-232 interface data upload PC , automatic generation test data form.
9.Normal temeprature pressure and density under any environment temperature can be calibrated.
10.Advantage quick joints, convenient connection and small leakage.
11.Built in clock, which can be corrected at any time.
12.Self checking function. Calibration can be corrected after using, to ensure calibration precision.
13.High precision pressure sensor and advanced magnetic fluid technology.
14.Built-in high capacity battery, LCD display quantity of electricity , convenient on-site check.
III.Main Technical parameter
| | |
| --- | --- |
| Measuring accuracy | 0.25 class |
| Display | LCD |
| Measuring range | 0 ~ 1.6Mpa |
| Pressure display resolution | 0.001 Mpa |
| Operation temperature | -30ºC to 85ºC |
| Storage data | 100 groups |
| Communication interface | RS-232 |
| Printer | (optional) |
| Power supply | AC220V + 10% 50Hz,built-in power:DC8.5V |
| Weight: | 3kg (host) |
| Size | 360*240 *110 mm(host), 430*310*160mm (accessaries) |
Our company:
Changzhou Andwin Refrigeration Equipment Co.,Ltd
Add- No 91 Hanjiang Road New District Changzhou Jiangsu China
Advanced One-Stop Purchasing Service-In Air-conditioning And Refrigeration Industry
Main product
Copper Tube -- Aluminum Tube Coil
Brass Pipe -- Steel Sheet -- Copper Fitting
Fan Motor -- Compressor-- Hand tools
Valves Gauge-- Air-conditioner -- Refrigeration
Wash Machine -- Condenser Unit - Vacuum Pump-- PE Tape
Moisture Analyzer
Advanced One-Stop Purchasing Service. Welcome !
Contact:
Aimee Chen
Changzhou Andwin Refrigeration Equipment Co.,Ltd
Add:No.91 Hanjiang Road, New District, Changzhou, Jiangsu, China.