Product Description
Acrel Asj20-Ld1a Panel Type Residual Leakage Current Circuit Protection Relay
General
ASJ Series of action relay of after-current, low-voltage circuit break or low-voltage contactor can be made up for combined after-current production device, which is mainly applied for the TT and TN system distributing circuit with the alternating current 50Hz, the rated voltage 400V or below. ASJ Series of action relay of after-current is applied in the earth fault protection for the electric circuit, so as to prevent the equipment damage and the fire accident of electric equipment caused by the ground fault current, moreover, it also can provide indirect contact protection against the electric shock risk.
Features
1. The measurement of A-type after-current;
2. The streamer display of current percentage;
3.The setting of rated residual action current;
4. The setting of non-driving time of limitation;
5. Two-pair relay output;
6. Possessing the function of on-the-spot and long-distance testing and resetting.
Types
Types

Basic function

Installing way









ASJ10-LD1 C

Measurement of AC-type after-current;
Indicator of current off-limit alarm; The setting of rated residual action current ( see in the table 2);
The setting of non-driving time of limitation ( see in the table 2);
Two-pair relay output;
Possessing the function of on-the-spot and long-distance testing and resetting












rail guiding (TS35mm
)









ASJ10-LD1 A

The measurement of A-type after-current;
The streamer display of current percentage;
The setting of rated residual action current ( see in the table 2);
The setting of non-driving time of limitation ( see in the table 2);
Two- pair relay output(both of which can be set) *;
Possessing the function of on-the-spot and long-distance testing and resetting

ASJ20-LD1 C

Measurement of AC-type
after-current;
Indicator of current off-limit alarm;
The setting of rated residual action
current ( see in the table 2);
The setting of non-driving time of limitation ( see in the table 2);
Two- pair relay output;
Possessing the function of on-the-spot
and long-distance testing and
resetting
Screen
structure (48
square)

ASJ20-LD1 A

The measurement of A-type after-current;
The streamer display of current
percentage;
The setting of rated residual action
current ( see in the table 2);
The setting of non-driving time of
limitation ( see in the table 2);
Two- pair relay output(both of which
can be set) *;
Possessing the function of on-the-spot
and long-distance testing and
resetting
Technical Parameters
Technical parameter

Index




Type AC

Type A







input

Rated residual action current I△n

0.03,0.1,0.3,0.5(A)

0.03,0.05,0.1,0.3,0.5,1,3,5,10,
30(A)

Non-driving time of limitation △t

0.1,0.5(s)

0,0.06,0.1,0.2,0.3,0.5,0.8,1,4,
10(s)
Rated residual
non-action current I△no
50%I△n
50%I△n

performance characteristics

simple sinusoidal alternating current

simple sinusoidal alternating current and pulsating direct current

frequency

50Hz±5Hz

50Hz±5Hz

action error

-20% ~ -10%I△n
-20% ~ -10%I△n

output

output mode

one is the normal closing and the other

one is the normal closing or opening, and the other is for the transformation

is for the transformation

contact capacity

5A 250VAC 5A
30VDC

AL1:8A 250VAC 5A 30VDC AL2:6A 250VAC 5A 30VDC




reset mode

the on-the-spot one and the long-distance one,

the on-the-spot one, the long-distance one and the automatic one




power supply

voltage range

AC110V,AC220V(permissible
error±10%)
AC110V,AC220V,DC85-270V
(permissible error±10%)

power dissipation

≤5W




power frequency withstand voltage

The effective value of alternating current between the power supply, input and output: 2kV/1min






under the normal operation





temperature

operating temperature: -20ºC ~ +55ºC storage temperature: -30ºC ~ +70ºC

humidity

≤95%RH, with moisture condensation, and corrosive gas place

height above sea level

≤2000m

class of pollution

Grade three

installation category

Type Three
Dimension&Hole Size
(Unit:mm)
instrument type

Panel size (mm)

Shell size (mm)

hole size(mm)

ASJ20-LD1C ASJ20-LD1A

48×48( width by height)

43.8×43.8×100(width by
height by depth)
45×45(width by
height)

ASJ10-LD1C ASJ10-LD1A

85×54×64(length by width by height)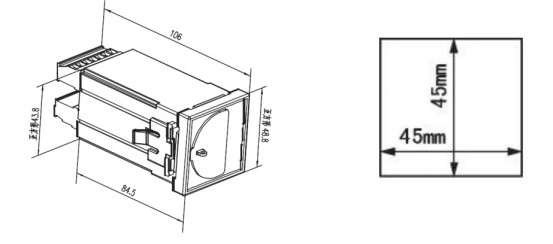 Typical Connection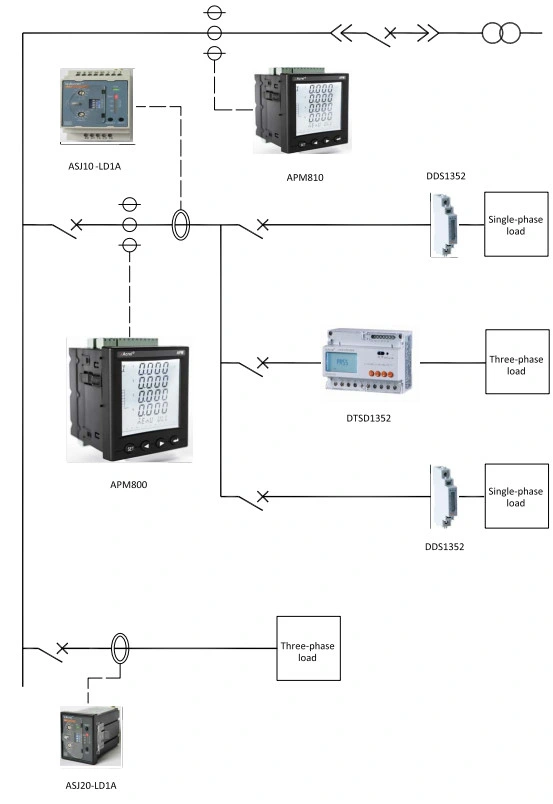 Quotation